In

Community

of Inquiry with Ann Sharp: Childhood, Philosophy & Education

(2017)
EDITED BY MAUGHN ROLLINS GREGORY
& MEGAN JANE LAVERTY
This critical anthology showcases the work of Ann Margaret Sharp—the life-long P4wC partner of Matthew Lipman—who is credited with the spread of philosophical inquiry around the world, as a practice, theory and focus of graduate study.
Seen and not Heard
JANA MOHR LONE
How might society benefit if children were recognized as independent thinkers, capable of seeing clearly and contributing in valuable ways to our world? How would children's lives change if what they said was not often ignored or patronized?
In a series of conversations with children about many of life's important philosophical questions, Seen and Not Heard reveals children as perceptive and original thinkers. Guided by discussions about the meaning of childhood, friendship, justice and fairness, happiness, and death, the book invites us to rethink our beliefs about children and become more receptive to the ways we can learn from them.

Philosophy in Education
JANA MOHR LONE AND MICHAEL D. BURROUGHS
Philosophy in Education: Questioning and Dialogue in Schools is intended for philosophers and philosophy students, precollege classroom teachers, administrators and educators, policymakers, and pre-college practitioners of all kinds. This text book offers a wealth of practical resources and lesson plans for use in precollege classrooms, as well as consideration of many of the broader educational, social, and political topics in the field.

The Philosophical Child
JANA MORH LONE
What does it mean to be good? Why do people die? What is friendship? Children enter the world full of questions and wrestle with deep, thoughtful issues, even if they do not always wonder them aloud. Many parents have the desire to discuss philosophical ideas with their children, but are unsure how to do so. The Philosophical Child offers parents guidance on how to gently approach philosophical questions with children of all ages. Jana Mohr Lone argues that for children to mature emotionally, they must develop their desire and ability to think abstractly about themselves and their experiences. This book suggests easy ways that parents can engage with their children's philosophical questions and help them develop their "philosophical selves."

Philosophy and Education
JANA MORH LONE and ROBERTA ISRAELOFF
Are children natural philosophers? They are curious about the mysteries of the human experience and about questions such as the meaning and purpose of being alive and whether we can know anything at all. Pre-college philosophy takes as a starting point young people's inherent interest in large questions about the human condition. Philosophy and Education: Introducing Philosophy to Young People seeks to illuminate the ways in which philosophy can strengthen and deepen pre-college education. The book examines various issues involved in teaching philosophy to young people at different grade levels, including assessing what teachers need in order to teach philosophy in schools and describing several models for introducing philosophy into schools.

Why we are in Need of Tails
MARIA DAVENZA TILLMANNS
Our most nuanced skills for communication were lost when we lost our tails, so the story goes.
Huk and Tuk explore ways we can compensate for this loss, by telling stories — tales — through polyphonic listening and by entering into dialogue to create a new, deeper understanding of ourselves and the world we live in.
Why we are in Need of Tales (part I)
MARIA DAVENZA TILLMANNS
In Why We Are in Need of Tails, Huk and Tuk explain why reading tales to each other is so important.
In Why We Are in Need of Tales, Huk and Tuk explore intriguing questions that arise from their discussions of six different picture books written by Arnold Lobel and Leo Lionni.
Is something ever truly mine alone? How do we come to know what we don't know? What makes a friend a friend?
Teaching Democracy in an Age of Uncertainty (2022)
GILBERT BURGH & SIMONE THORNTON 
The strength of democracy lies in its ability to self-correct, to solve problems and adapt to new challenges. However, increased volatility, resulting from multiple crises on multiple fronts – humanitarian, financial, and environmental – is testing this ability. By offering a new framework for democratic education, Teaching Democracy in an Age of Uncertainty begins a dialogue with education professionals towards the reconstruction of education and by extension our social, cultural and political institutions. This book is the first monograph on philosophy with children to focus on democratic education.
Why we are in Need of Tales (part II)
MARIA DAVENZA TILLMANNS
In Why We Are in Need of Tales, Part II, Huk and Tuk discuss another important aspect of telling tales: making dreams come alive. Here they discuss six more tales by Arnold Lobel and Leo Lionni and learn that we cannot live without the dreams that our imaginations create. Dreams give us hope and imagination and – with the help of courage and determination – allows us to create extraordinary things.
Philosophical Inquiry with Children: The Development of an Inquiring Society in Australia
EDITED BY GILBERT BURGH AND SIMONE THORNTON
Philosophy in schools in Australia dates back to the 1980s and is rooted in the Philosophy for Children curriculum and pedagogy. Seeing potential for educational change, Australian advocates were quick to develop new classroom resources and innovative programs that have proved influential in educational practice throughout Australia and internationally. Behind their contributions lie key philosophical and educational discussions and controversies which have shaped attempts to introduce philosophy in schools and embed it in state and national curricula.

Gareth B. Matthews, The Child's Philosopher (Routledge, 2021) features essays spanning the length of the late American philosopher's career, in three fields he helped to initiate: philosophy in children's literature, philosophy for children, and philosophy of childhood. Contemporary contributors to the book critically evaluate Matthews' scholarship, showing where he broke new ground taking up pressing challenges, including biased idealizations of childhood in children's literature, the tensions between teaching philosophy to, and doing philosophy with young people, the merits of theorizing childhood without theorizing children, and how professional philosophy at once desires and resists a return to childhood. Link to publisher's page.
The Routledge International Handbook of Philosophy for Children

(2016)



EDITED BY MAUGHN ROLLINS GREGORY,
JOANNA HAYNES & KARIN MURRIS
This rich, diverse collection of globally sourced chapters offers a range of perspectives and practices, framing P4wC as a significant educational and philosophical movement with growing impact on schools and educational policy.
Inclusion, Diversity & Intercultural Dialogue in Young People's Philosophical Inquiry

(2017)



EDITED BY CHING-CHING LIN
& LAVINA SEQUEIRA
This rich, diverse collection of globally sourced chapters offers a range of perspectives and practices, framing P4wC as a significant educational and philosophical movement with growing impact on schools and educational policy.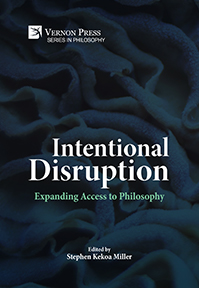 'Intentional Disruption: Expanding Access to Philosophy' is intended for those interested in pre-college philosophy; the nine contributions within cover a wide array of approaches to bringing philosophy to younger students in a number of new settings. The chapters in this book describe programs taking place across the United States—some inside school and some in unexpected settings such as camps, art museums and nature trails—and offer help to those who want to establish or enrich philosophy programs at pre-college levels while discussing an underlying philosophy and the challenges the programs have faced. At a time when institutional philosophy is imperiled, the programs in this volume point towards new directions being forged to bring the benefits of doing philosophy to more people.
This volume will be of particular interest to those interested in pre-college philosophy, and it is intended for philosophy professors, graduate students in philosophy or education, and philosophy teachers in pre-college settings. 'Intentional Disruption: Expanding Access to Philosophy' will also be helpful to school administrators, parents and philosophy camps instructors.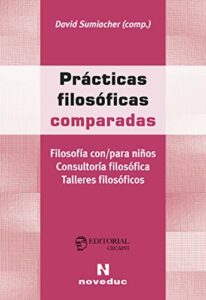 Prácticas filosóficas comparadas: Filosofía con/para niños. Consultoría filosófica. Talleres filosóficos
Nous follows Pixie in Matthew Lipman's series of philosophical novels for children. The story is realistic and mysterious at the same time. For Lipman, to be able to take good decisions as a child saves democracy, thanks to a lucid and responsible citizenship. He treats very current problems : among them, the relationship with nature and animals, solidarity, recognition of the other, intergenerational dialogue, imagination and creativity. The book shows an example of a well-conducted moral education. This translation (311 pages), published by Peter Lang contains the novel (113 pages) and the manual.