Our New
Research Initiatives
The field of P4wC has generated an extensive body of research literature, including philosophical and empirical studies, and program evaluations. The movement has also been a major contributor to the emerging field of philosophy of childhood, as children's philosophical practice has given rise to new understandings of the meanings of childhood, adulthood and philosophy. P4wC discourses both inform and are informed by other scholarly fields and practice, from cognitive psychology to critical theory, democratic education to child studies.
For more information, contact research@icpic.org
Join a research group
Increasingly, empirical research funded by major scientific and educational grantors and published in top-ranked academic journals demonstrates a number of distinctive positive academic, social and emotional effects of P4wC practice on students, teachers and educational climate. At ICPIC, we are actively striving to extend this research through new and ongoing initiatives that highlight the international impacts of P4wC in various contexts.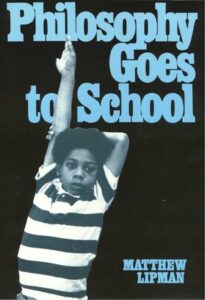 We are happy to include on our bookshelf any publication relevant to philosophical inquiry with children, including monographs, edited volumes, textbooks, and curriculum, as well as translations of relevant books, and including books published by university presses, commercial academic presses, commercial trade presses, and independent presses, and even self-published books.
If you are an ICPIC member, and you would like your book to appear on the ICPIC bookshelf, please send (1) an image, (2) a short (up to 100 words) description, and (3) a link to where it may be purchased to webmaster@icpic.org.
ICPIC does not endorse any book appearing on the ICPIC bookshelf.
Published Research in P4wC
Published research in Philosophy for/with Children is indexed in PhilPapers, a free, comprehensive, searchable bibliography of philosophy maintained by the world community of philosophers. Many items are available as full-text downloads, while some are only referenced. A committee of ICPIC scholars edits P4wC research in 13 topics:
Bibliographic Category
These bibliographies are an invaluable resource for anyone doing original research in P4wC, wanting to read up on some aspect of P4wC theory, history or practice, or looking for new ideas for practicing P4wC. There are three ways you can be involved in this project:
User accounts are not compulsory, and you can browse PhilPapers listings without one. But creating an account enables many useful functions, including personal reading lists and bibliographies, participation in the discussion forums, submission and editing of items, and much else. Every user has a profile page, which contains lists of the user's works and their areas of interest, among other things, and which can be made public or private as the user chooses. To create your PhilPapers account, visit the registration page.
You can submit journal articles, book chapters, books and other published resources to the PhilPapers database using the "Submit" menu. You can submit an item published in virtually any language, and you can either submit information about a published item, a link to an item hosted elsewhere, and/or (if you have the right to do so) you can submit a file containing the item itself. Note that PhilPapers is largely dedicated to professional-quality work in peer-reviewed academic philosophy, and editors reserve the right to reject any submissions. When you submit an item you should also indicate at least one and up to three of the categories listed above, in which you think it belongs. Each of these categories is curated by an editor who will decide whether to accept the paper you submit into that category. For more information, see the Categorization Project page at PhilPapers.
The responsibilities of a Philosophy for/with Children topic editor in PhilPapers include:
Editing the topic description

Populating the topic with entries, using the tools provided at the PhilPapers website

Proposing new sub-categories within your topic

Correcting mistakes in entries made by third parties

Promoting your topic

Taking part in relevant discussion forums at PhilPapers
The names of PhilPapers editors at every level of the taxonomy appear on the website. Being a PhilPapers editor is an important opportunity for professional service. Because the work of editing the Philosophy for/with Children topics in PhilPapers is a project of ICPIC and supervised by the ICPIC Research Coordinator, Philosophy for/with Children topic editors must be members of ICPIC. In addition, PhilPapers stipulates that the usual minimal qualification for being editor of a given category is to have published on the relevant topic. To read more about this role, please visit the PhilPapers editor page. All Philosophy for/with Children topic editor positions are currently filled, but if you are interested in becoming a topic editor in the future, please send us an email explaining your interest and experience.
ICPIC SPECIAL INTEREST GROUPS
Special Interest Groups (SIGs) provide a forum within ICPIC for members to work together on a common interest related to Philosophy for/with Children. ICPIC supports two categories of SIGs: Research SIGs devoted to the pursuit of research in a particular area of P4wC and Practice SIGs devoted to particular approaches to P4wC practice, projects for the dissemination of P4wC in new locations, and other kinds of practical projects not directly related to research. ICPIC members can add one or more of either category of SIG to their membership via the ICPIC website, and will belong to that SIG until they withdraw from it or from ICPIC membership, or until the SIG is discontinued.
The purposes of ICPIC SIGs include:
to facilitate collaboration among ICPIC members around particular areas of research or practice

to increase the exchange of knowledge, skills and resources within and among particular fields of research and practice

to mentor graduate students, emergent scholars, and new practitioners

to facilitate the publication of bibliographies of research in particular fields of P4wC on the PhilPapers.org database

to facilitate cooperation in special projects of P4wC
To these ends, ICPIC SIGs are expected to engage in a variety of efforts, which may include, but are not limited to: maintaining a SIG page on the ICPIC website, contributing to the Philosophy for/with Children bibliographies on PhilPapers.org, disseminating e-newsletters, creating social media accounts, issuing calls for proposals, applying for grants of external funding to support research, training, dissemination and/or other projects, organizing research collaboration, mentoring graduate students and emergent scholars, issuing awards, proposing special sessions at ICPIC conferences and research seminars, holding specialized annual meetings, producing webinars, and engage in SIG membership recruitment.
For more information, contact research@icpic.org
SIGs:
Special Interest Group – Philosophy with Children and Teacher Education
P4wC Journals & Magazines
Analytic Teaching and Philosophical Praxis

(ATPP)

VITERBO UNIVERSITY, U.S.A.
This peer-reviewed, open access journal is dedicated to exploring the deeper philosophical and ethical implications of education. It sets out a broad agenda within the context of philosophical inquiry with children, with areas of interest ranging from teacher training to liberation pedagogy, narrative learning to Vygotskian psychology and cognitive science. The mainstay are might be defined as reflective teaching and community inquiry.
Precollege Philosophy and Public Practice
PLATO
Precollege Philosophy and Public Practice is an interdisciplinary and peer-reviewed online journal for philosophical and/or empirical research on precollege philosophy and its impact and interaction with related areas such as public philosophy, dialogue-based education, ethics education, and human development. In addition to theoretical and empirical research articles, P4 will feature book reviews relating to the focus areas of the journal.
Childhood and Philosophy

ICPIC & STATE UNIVERSITY OF RIO DE JANEIRO, BRAZIL
As the official publication of the International Council For Philosophical Inquiry With Children, this journal is dedicated to the encounter between children and philosophical education. It seeks to contribute to a redefinition of childhood through the theory and practice of philosophy with children, and the notion of children as philosophical thinkers. It publishes articles in six languages in an effort to increase multilingualism in the field.
Critical and Creative Thinking

(Discontinued)

AUSTRALASIAN JOURNAL OF PHILOSOPHY IN EDUCATION, AUSTRALIA
From 1993 to 2009, this international scholarly journal focused on philosophical inquiry with school-aged children. It published academic research pertaining to the theory and practice of philosophical inquiry in classrooms, as well as reports and resources for integrating philosophical inquiry into schools. (Back issues are available through the journal archive to FAPSA members.)
Diotime: Revue internationale de didactique de la philosophie

CANOPÉ, FRANCE
This international francophone review of the didactics of philosophy explores new philosophical practices with a particular focus on philosophical dialogue with young people. It aims to raise awareness and create knowledge about these new practices of meaning-making and public philosophy by giving voice to teachers, facilitators, trainers and researchers interested in sharing their reflections on philosophical learning and the drive to think for oneself.
El Butlletí Filosofia 3/18

GrupIREF, SPAIN
This quarterly bulletin has been published since 1990 in Catalan as a tool for fostering communication between teachers who are working with philosophy for children projects at elementary and secondary schools. It focuses specifically on the Lipman-Sharp approach to the Community of Philosophical Inquiry adapted in the "Filosofia 3/18" curriculum which seeks to develop cognitive abilities and responsible democratic citizenship.
Journal for Philosophy in Schools

(JPS)

FEDERATION OF AUSTRALIAN PHILOSOPHY IN SCHOOLS ASSOCIATION (FAPSA), AUSTRALIA
The focus of this peer-reviewed journal is research into philosophy with school-aged children, including its history, traditions and pedagogy, as well as its roles in the classroom, reflective education and Socratic dialogue. The journal publishes academic research articles on the pedagogy and practice of philosophy in schools, as well as book reviews and teacher resources. It aims to encourage academic reflection and research into the growing field of philosophy in schools.
Questions: Philosophy for Young People

PLATO (PHILOSOPHY LEARNING AND TEACHING ORGANIZATION), U.S.A.
This online journal run by PLATO publishes the work of K-12 students interested in philosophical issues, including stories, essays, poems, photographs and drawings. The journal also publishes articles by scholars and teachers, including lesson plans, book reviews, field notes, modified classic thought experiments and transcripts of philosophy discussions. It is sponsored in part by the American Philosophical Association's Committee on Pre-College Instruction in Philosophy.
Revista Iberoamericana de Filosofía para Niños

VALENCIAN ASSOCIATION OF P4C & LAERTES PUBLISHERS, SPAIN
This hispanic magazine is dedicated to innovative action-research projects aimed at transforming classrooms and human communication processes into communities of inquirer-narrators (CIN). It strives to spread the desire for critical, creative and caring thinking In what it deems as a contemporary social context of educational and political impoverishment. It publishes the studies and experiences of P4C practitioners committed to transforming cosmopolitan democracy and socio-economic equality.
Tafakkor va Kudak

PERSIAN JOURNAL OF THINKING AND CHILDREN, SPAIN
This bilingual journal publishes articles in Arabic and English on the practice and theory of philosophy for children in elementary and secondary schools. Areas of interest range from educational psychology to gender-based education, thinking and learning styles to empirical studies on the impacts of philosophical inquiry with youth.
Thinking: The Journal of Philosophy for Children

(Discontinued)

MONTCLAIR STATE UNIVERSITY, U.S.A.
Founded in 1979, this international journal was published by the Institute for the Advancement of Philosophy for Children at Montclair State University. It served as a forum for the work of both theorists and practitioners of philosophical practices with children, and showcased such work in all forms, including philosophical arguments and reflections, classroom transcripts, curricula, empirical research and reports from the field. (A searchable index of citations is available on the Education Full Text database.)